Day Out With Thomas, coming back to Duluth in Summer, 2019!
July 26-28 and August 2-4, 2019 is the largest fundraiser for the Museum all year, Day Out With Thomas is fun for the whole family! This is an opportunity for kids to take a ride with their favorite tank engine, meet the railway controller Sir Topham Hatt, have fun in Imagination Station, explore the Railroad Museum, take a ride with Thomas' friend Percy, and much more! Get ready for The Steam Team Tour when Thomas brings his best buddy Percy with him to Duluth, Minnesota this summer.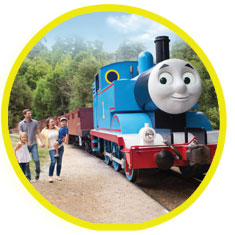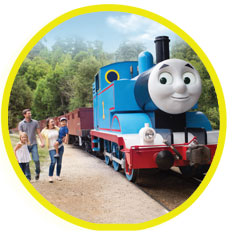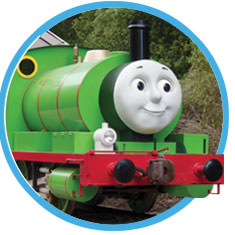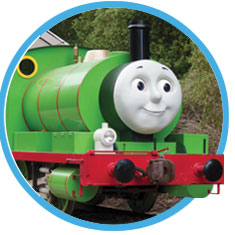 The best place to see Thomas in Minnesota or Wisconsin!
Each ticket to the Day Out With Thomas includes:
Access to all activities at Day Out With Thomas
Entry to the Lake Superior Railroad Museum
Approx. 20-25 minute train ride behind Thomas through Duluth to Lake Superior
Imagination Stations, which include sandboxes, coloring, Mega Bloks, building stations, craft tables, Thomas play tables and much, much more
Live Children's Music by Big & Tall (Mr. Billy)
Magic shows throughout the day
Photo opportunities with Thomas, Percy, & Sir Topham Hatt
Free trolleycar rides
Inflatable slide, bounce house and obstacle course
Temporary Tattoo and Face Painting stations
Model Train layouts
Huge Thomas Gift Shop
Lots of games and activities
And much more…
Add the Percy Train Ride to Get More Fun:
A separate 20-25 minute train ride behind Percy, a similar route but different fun onboard
Percy train rides can be scheduled before or after your ride with Thomas
Photo opportunity with Percy
You must buy a Thomas ticket in order to purchase a Percy train ride
Percy has a party on his train!
Tickets are $22 per person for Thomas, ages 2 and up.
The Percy train ride can be added as an additional purchase for just $8 more. Toddlers under 2 do not need a ticket, but must ride in the lap of a ticketed passenger. Both train rides are about 25 minutes each, but the "average guest" is here for 2-3 hours depending how much fun with your friends you want to have!
Tickets are for sale online or by calling TicketWeb: 866-468-3399

Frequently asked questions:
Do I need to pre-purchase tickets?
Advance ticket purchases are strongly encouraged, as trains do sell out. Thomas runs every hour on the hour starting at 9am, and there is often space on the morning and afternoon trains. If trains aren't sold out, tickets are for sale at the window for a limited number of walk-up sales.
This year we are seeing a dramatic increase in reservations and are anticipating sold out trains for many of the days, especially on Saturdays of the event.
Where do we park?
During the event, there is no on-site parking at the museum but two parking ramps are located to the north and south sides of the depot building. Several other parking facilities are within a two-block walk of the event. Most parking locations require payment and most accept credit cards. Parking fees vary from day-to-day of the event (weekday/weekends). Please allow extra time to find parking before your train departure.
Can I buy a Percy Ride Only Ticket?
The ride with Percy is only available as an add-on to your Day Out With Thomas ticket.
Can I buy a discounted admission and not ride Thomas?
Anyone can choose not to ride on the Thomas excursion ride, but all guests at the Day Out With Thomas must purchase a standard admission ticket, for $22, available above.
When does this event take place and what is included?
Thomas runs July 26 , 27, 28, & August 2, 3, 4 in 2019. Tickets include the ride, access to the museum and all the other activities. The only additional costs are food and giftshop merchandise, should you choose to purchase items.
More helpful information & links:
For directions to the Duluth Depot (Day Out With Thomas event): click here.
For information on the Sensory Friendly event for Day Out With Thomas, please send an email to: ferozamaster@gmail.com. Sensory Friendly Day Out With Thomas is an event for people and children who have sensory processing issues, are on the autism spectrum, and/or have special needs. To make it an event geared for these populations, we ask you to only request tickets if you and the person for whom you are a caregiver meets these requirements.

Have a promotional ticket from a radio station, tv station, or something like that and want to make a reservation? click here.