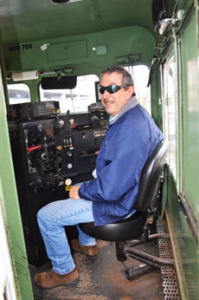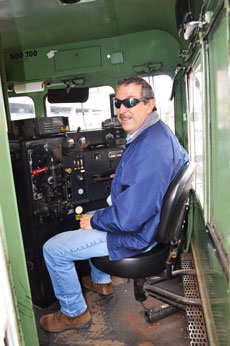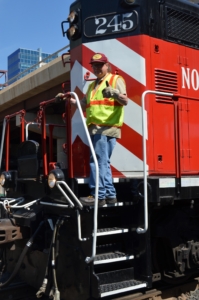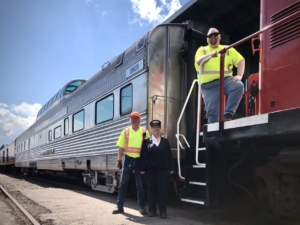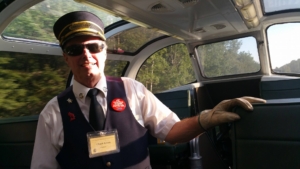 JOB: Locomotive Engineer

General Description:
Operate the locomotive of excursion trains and limited freight operations, running between the rail line between Duluth and Two Harbors. Excursions operate daily in summer and fall, with additional operations for the holidays and winter projects. This position assists in the management of all daily and long term operations of all trains on the North Shore Scenic Railroad (NSSR) and Lake Superior Railroad Museum (LSRM) in a safe, professional and productive manner.
Job Details:
Position Title:  Railroad Engineer / Train Operations
Reports directly to:  RR Operations Manager
Position type:  Seasonal Part Time & Full Time – Hourly
Over sees: Other Train Crew
Specific roles and responsibilities include but are not limited to:
Have the highest regard for safety and the willingness to oversee and direct others in unsafe situations

Providing a work environment that promotes positive energy and teamwork among employees and volunteer crews too

Operation of railroad locomotives and rail equipment

Assisting with the implementation of rules & procedures for crews to follow in accordance with State & Federal Guidelines

Handling issues and making effective decisions that will help the organization run efficiently

Helping to ensure railroad equipment stays in good working condition

Might be asked to assist with training and overseeing a crewing working as train and engine service personnel

Managing the movement and use of equipment and materials in and/or out of the train station and onboard trains in accordance with NSSR policy and procedures, as well as complying with relevant Federal Railroad Administration (FRA) requirements

Assist with maintenance schedules, and work with mechanical department to schedule repairs or modification of equipment

Work closely with local management from partner railroads (BNSF and CN)
Requirements:
Must have a current GCOR and/or USOR certification within the last 3 years

Must obtain and maintain a Locomotive Engineer's License within 1 year of hire

Must have at least 2 years of previous railroad experience

Must be able to meet deadlines and follow schedules

Must be willing to work non-traditional hours as needed, including weekends and limited holidays

Must have the ability to direct and coach others and work in a team environment

Must be able to work in a stressful environment at times

Strong verbal, written and communication skills as well as organizational skills

Must obtain and maintain knowledge of CFR Part 49 regulations pertaining to railroad operations

This job requires drug and vision prescreening and random DOT drug testing
In addition to the above responsibilities all employees of the Organization are responsible to conduct themselves in a professional manner. Every employee is equally important to the effective operation of the museum. Because of the unique nature of museum work, it sometimes becomes necessary to assume additional responsibilities at times when directed by management and/or the board of directors. Although this may not be detailed in your job description, it should be considered to be part of your job.