Volunteer Train Crew Training: February 10 – March 17, 2024
Join the volunteer crews and be part of the North Shore Scenic Railroad by attending the new conductor classes starting in February, 2024. Classes are free and designed for beginners who want to be part of the railroad's train crews.  Attending starts you on the path toward becoming a fully certified conductor on the North Shore Scenic Railroad.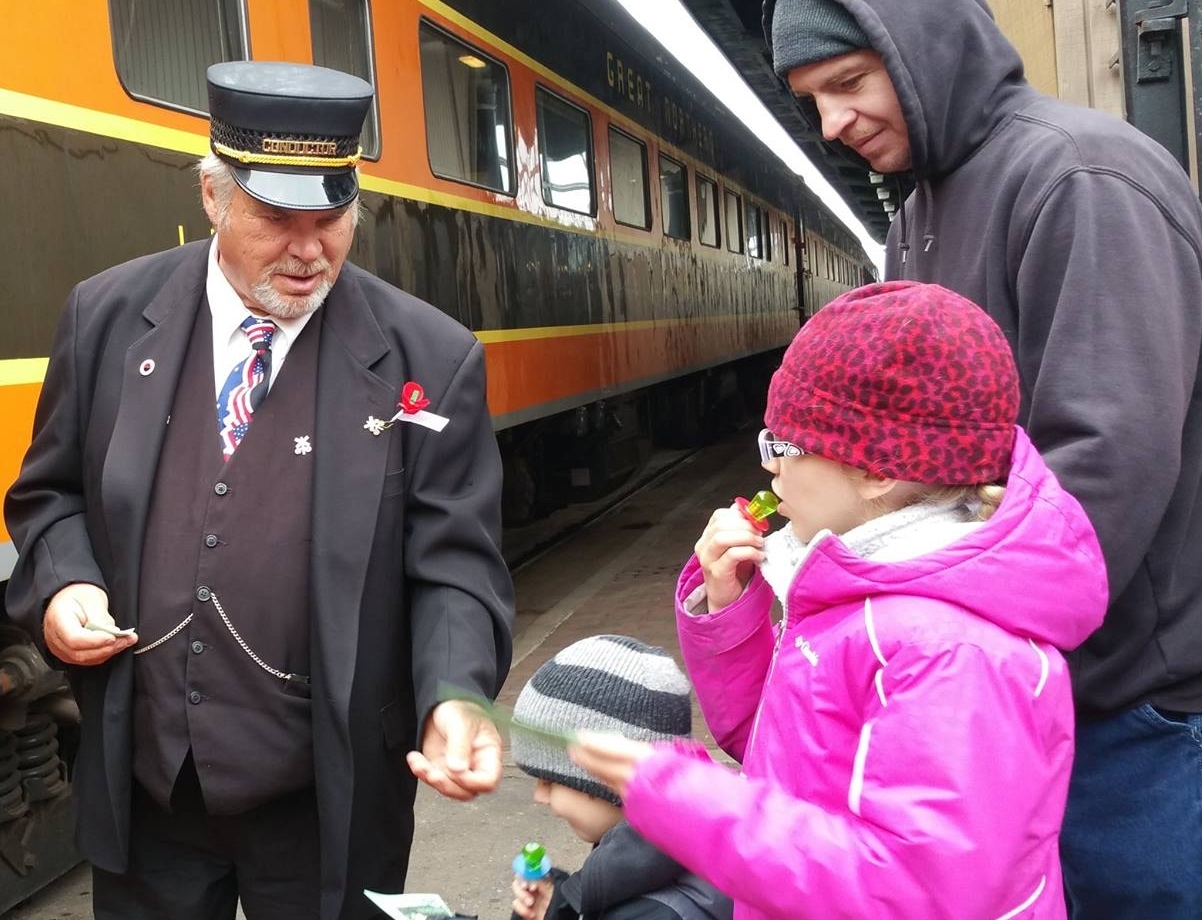 Why volunteer at NSSR?
For over 30 years, the North Shore Scenic Railroad has carried hundreds of thousands of tourist and business passengers up and down Lake Superior's North Shore. The Railroad utilizes volunteer crews while operating a nationally renowned heritage operation. Not only does the Railroad provide a chance for tourists to experience the golden age of railroading, the revenue made on passenger trains, as well as freight, supports the Lake Superior Railroad Museum.  The museum preserves, interprets, and presents to the public the history of railroading in the area.  Crew members get the chance to use vintage equipment in the furtherance of the museum's mission. If you're a railfan, or just someone who wishes they could've worked on the railroad, this course is for you!
Prerequisite Requirements
No prior experience in railroading or transportation is necessary to volunteer as a crew member on the NSSR.
Volunteers must:
be at least 18 years of age
have a willingness to work as part of a team
have a safety minded attitude
be willing to follow company policies, state statutes, and federal regulations
submit to and pass a pre-employment drug screening as well as random tests while operating as a crew member
pass medical, hearing, and vision testing
submit state and federal driver's records for review
pass written and practical tests
The administrative side of these requirements, as well as testing, will be addressed and completed during training.
Classes are free, as is all aspects of volunteering with the railroad. The seminars will be held at the Radisson Hotel in Duluth. Parking is free for students in the Radisson lot. Lunch will be provided each day. Class hours are 8 am to 4 pm each day and will be held on the following dates:
Feb 10th & 11th
Feb 24th & 25th
Mar 16th & 17th
If you are not from the Duluth area and would like to stay at the Radisson during our training session weekends, please email scott@duluthtrains.com for information on a reduced rate.
Path to Certification
Students are required to attend 48 hours of classroom training and pass a written test before proceeding to "on the job" (OJT) training. OJT training consists of a minimum of 60 hours.  The first portion of OJT training is in a controlled environment with instructors.  The remainder of OJT takes place with NSSR crew members on actual scheduled passenger trains.  New volunteers are expected to complete the 60 hours of OJT by late October, 2024.
When students feel confident, and management feels they are ready, a check ride takes place allowing students to demonstrate knowledge and the ability to work safely as part of the NSSR team.  A successful check ride allows the newly certified member to sign up as a conductor or brakeman on scheduled trains.
If a crew member's eventual goal is to be a locomotive engineer and operate the train, this course is the first step in that direction.
How do I sign up?
Click here for more info or to register for the training classes.  An email will be sent confirming your registration in the class.  During the first session, learning and testing materials will be provided.  Simply bring some writing paper and a pen/pencil. Students are encouraged to bring a 3-ring binder as the material given out will be punched for binder use.
I want to volunteer, but I don't think this course is for me
If you don't think this class sounds right for you, but you'd still like to volunteer for the North Shore Scenic Railroad or Lake Superior Railroad Museum, please reach out to us at scott@duluthtrains.com. We are always looking for volunteers in our maintenance shop, museum, and archives. No prior experience is required for these positions, but individuals with skills in woodworking, welding and metal fabrication, etc. are encouraged to apply.