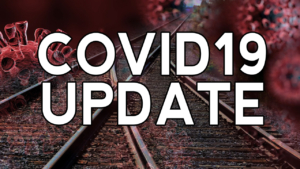 TRAIN EXCURSIONS ARE NOW OPERATING DAILY, AND THE MUSEUM IS OPEN. WE CONTINUE TO MONITOR THE SITUATION TO ASSURE IT IS SAFE AND HEALTHY FOR OUR GUEST-PASSENGERS AND CREWS.
INFO ABOUT COVID19 PROCEDURE CHANGES (Now through August 31st, and likely beyond):

Masks are required in the Duluth Depot building, and for boarding the train (onboard they can be removed while seated).
Boarding procedures are modified to eliminate the line to board the train
Trains have a reduced capacity, in most cases by half
Onboard the train, additional space is made between seats restricting how close passengers can sit
Friendly signage is posted around the building to simplify social distancing.
The museum itself has been converted to a one-way tour.
Buttons inside the museum have been replaced with motion-activated switches.
Dinner trains reduced capacity by half, spacing tables every-other occupied, or by group
Pizza Trains: All 8″ personal pizzas are enclosed in an individual box until they reach the passenger
SALES POLICY CHANGES: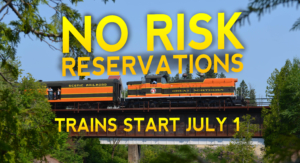 A relaxed sales policy has been issued starting June 24th through August 31st for and reservation/sale made during that time for an excursion made anytime in the 2020 calendar year, will have a "no risk reservation" cancellation option. See details here.
 WHILE THE MUSEUM WAS CLOSED, WE MADE A DAILY SERIES OF VIDEO TOURS IN THE MUSEUM, WHICH CAN BE FOUND ON THE MUSEUM'S FACEBOOK PAGE OR ON THE YOUTUBE CHANNEL HERE.
Standard Train Excursions
Trains operate daily in the summer and fall months, starting in spring. There are several options to choose from. Our standard excursions are listed below, and other special events listed here.
Good things to know:
Reservations are recommended for all excursions, and some trains require reservations in advance. A credit card is required to make reservations.
All excursions are round-trip
On most excursions, children ages 2 and under are free and do not need reservations or tickets, except on: First Class Duluth Zephyr, Elegant Dinner Train, Summer BBQ, and Murder Mystery, ages 0-13 will need a purchased ticket.
Combo rates to add the museum are included! The Duluth Depot museum is currently offering free admission starting June 1st
Wheelchair accessibility is available on the Duluth Zephyr and Pizza Trains only at this time – there are no accessible restrooms for wheelchairs onboard the historic railcars. >>More ADA information here<<
The Duluth Zephyr
Operates daily until mid-October
The Duluth Zephyr is our most popular trip! Great for all ages, this train operates daily in the summer and offers a 75 minute trip (1hour, 15 minutes) through downtown, along the shoreline of Lake Superior, through the historic Congdon Neighborhood wooded area, until it reaches a siding where we stop briefly to turn around and return to the Depot.
---
Options:
First Class Option: Ride in the Dome Car and enjoy the unique upstairs viewing area, with an attendant designated just for you. Space is limited to just 24 passengers per trip, but you have the entire Dome Car (including the downstairs lounge) to yourself. Enjoy complimentary snacks while you experience the spectacular views from above, in the "Silver Club" CB&Q Dome Car. Learn more about the Dome Car here.

Coach Seats: Ride in one of several historic coaches. Some have open windows, some have air conditioning/heat, its up to you! A concession car is also available to explore.
---
FIRST CLASS: $39.00
All ages (including babies) need a purchased ticket
COACH SEATS: Adults – $20.00, Children (3-13) $9.00
Ages 2 and under are free and do not need tickets
Reservations are not required for this excursion, but recommended. Tickets may be purchased anytime prior to departure.
Beverages and snacks are available onboard the train. Pepsi products, juice, and water. Beer, wine, and seltzers are also available for ages 21+.
Light snacks available for purchase such as candy and chips.
Schedules subject to change from what is listed above, for most up-to-date, 

Click here for daily calendar

.
Trains operate 7-days-a-week in late spring, through mid October.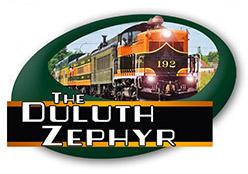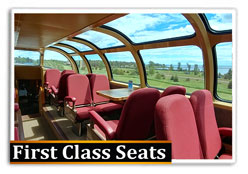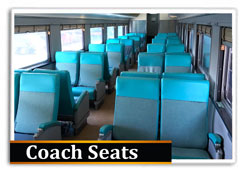 The Music & Pizza Train
Evening Excursion
A 2-1/2 hour trip up the North Shore with pizza and fun for all ages! One 8″ Domino's Pizza plus soda included with every ticket. The first part of the ride is narrated as we pass by all the sights of Duluth, on the way back jam out in the concession car with live music from local musicians.Beverages and snacks are available onboard the train; Pepsi products, juice, water, as well as Beer, wine, and seltzers. Light snacks available for purchase such as candy and chips.
The Music & Pizza Train operates Friday/Saturday only after Labor Day.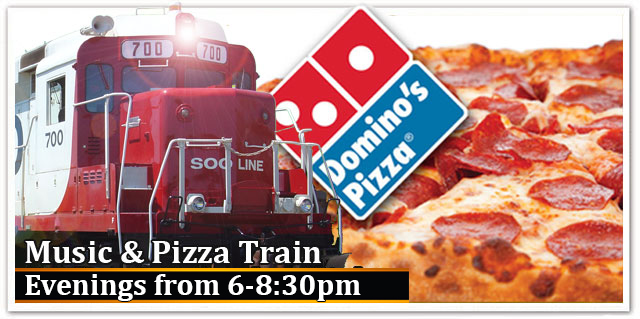 ---
Coach Seats: Adults – $28.00, Children (3-13) $18.00
Ages 2 and under are free (no pizza included)
**Reservations Required** 
Dome-Car seats (Available on select trips: M-W): For an additional fee, you can gain access to our Silver Club Vista Dome Car, with a limited number of passengers per trip with better viewing and comfortable seats. This is generally only available on select trains Monday-Wednesdays in August.
Pizza train reservations must be made by 2pm the day of the excursion. Menu options available: Pepperoni, or Sausage, or Cheese. Gluten Free cheese also available. Menu choices must be made at the time of reservation.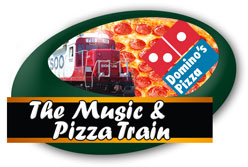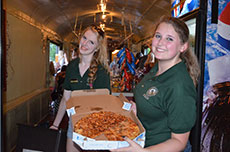 The Two Harbors Turn
Operates weekends to Mid-October
TWO HARBORS TRAINS ARE CANCELLED THROUGH SEPTEMBER 13TH
A six-hour full day up the North Shore with a layover-stop for lunch (food not included in ticket price), touring and shopping in beautiful Two Harbors. Return to Duluth between 4 and 5pm. Click here to view a map of the route.
Entrance to the Lake Superior Railroad Museum is included with your ticket prior to departure. Doors open at 9am. This trip is usually not wheelchair accessible. Pets are not allowed.
Beverages and snacks are available onboard the train. Pepsi products, juice, and water. Beer, wine, and seltzers are also available for ages 21+. Light snacks available for purchase such as candy and chips.
This train operates on weekends: Friday, Saturday, and Sundays.

Standard Two Harbors (Diesel Powered):
July 17 – September 13 – CANCELLED
Adults – $34.00, Children $20.00

Steam Powered Excursion (Cancelled 2020):
All Steam Train Dates in 2020 Have been Cancelled
Adults – $48.00, Children $28.00 (Plus a $2 per ticket Steam Legacy Fee)

Fall Colors Tour (Diesel Powered, Thurs-Sundays):
September 17 – October 11
Adults – $38.00, Children $22.00

The Two Harbors train excursion is subject to delays to due Canadian National Railway (CN) freight traffic. Please consider this when making plans for after the train ride. Delays are rare, but can be an hour or more.
Ages 2 and under are free on all Two Harbors excursions
Reservations are strongly recommended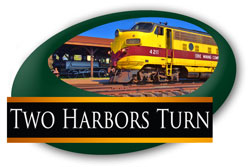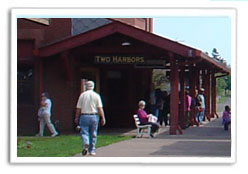 View More Special Excursions & Events Here