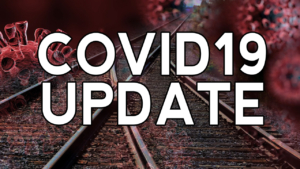 The North Shore Scenic Railroad and Lake Superior Railroad Museum want all guests to have a safe visit while exploring the trains. Un-vaccinated individuals are discouraged from visiting. Some of the below items are subject to change by the time you may be planning to visit, this page last updated 9/10/2021:
Cleaning and sanitizing protocols have been put in place using standards from the Centers for Disease Control, the State of Minnesota and St. Louis County Health Department. Routine cleaning is done on a daily basis before the Museum opens or the first train departs the station. During hours of operation, and even as the train is moving, cleaning will continue and the train cars will be thoroughly cleaned again between runs.
In the Train Museum (OPEN DAILY 10AM-5PM):
Masks are strongly encouraged for all individuals in both indoor and outdoor spaces, however are not required for vaccinated individuals.
Many exhibit push buttons have been replaced by motion sensitive touchless switches
Friendly signage will be posted around the building to simplify social distancing if possible
Hand sanitizer stations can be found throughout the building
On the North Shore Scenic Railroad:

Masks are requested for all passengers but not required for vaccinated individuals only.
"Concierge style" boarding eliminates lines on most excursions (we call your party by name in the order you check-in)
Hand sanitizer stations are found throughout the train and museum
On the Music & Pizza Train, individual, personal pizzas will be delivered to each guest
Extra space available on each train when possible
Railroad Sales Policy (does NOT include the Thomas event):
The North Shore Scenic Railroad introduces NO RISK Reservations. All changes to any reservations require 48 hours notice. Should there be a change in operation that affects a passenger's reserved ticket the railroad will offer one of the following options with no additional fees:
Reschedule to another date and time and waive any and all fees
Offer gift certificates good for two years
Refund the price of the ticket, if applicable
Some restrictions apply. Check with ticket agent.
For sales policies for Day Out With Thomas, please refer to TicketWeb, the ticket vendor of the Thomas event.