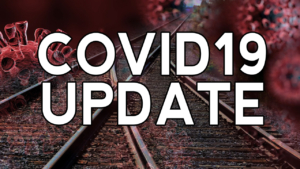 This is some information about what we are doing to make the trains as safe as possible for guests, staff, and crew alike. We are a public establishment and we do not have direct control over our guests, however we are doing everything we can to make the museum and trains as safe as possible. Some of the below items are subject to change by the time you may be planning to visit, this page last updated 5/29/2021:
Cleaning and sanitizing protocols have been put in place using standards from the Centers for Disease Control, the State of Minnesota and St. Louis County Health Department. Routine cleaning is done on a daily basis before the Museum opens or the first train departs the station. During hours of operation, and even as the train is moving, cleaning will continue and the train cars will be thoroughly cleaned again between runs.
In the Train Museum (OPEN DAILY 10AM-5PM):
Masks are no longer required in the Duluth Depot Building for vaccinated individuals.
Many exhibit push buttons have been replaced by motion sensitive touchless switches
One way directional pathways – follow the arrows and signs The museum is no longer one-way directional
Friendly signage will be posted around the building to simplify social distancing as best we can.
Access to some exhibits has been restricted, others have recently been reopened with some directional assistance and social-distancing encouragement
Hand sanitizer stations can be found throughout the building
The museum admission is $12 adults and $6 for children. Main entry (upstairs galleries) is free.
Train Museum Hours:

Open daily from 10AM – 5PM (open until 6pm after Memorial Day)
On the North Shore Scenic Railroad (Starting May 21, plans subject to change as season approaches)

Masks are still required for boarding the train and onboard the train, as per the Federal Railroad Administration (FRA) and Transportation Security Administration (TSA) mandates. This is a federal mandate still in place which governs transportation, including train rides in Duluth.
Children of able age should also wear a mask (ages 3+ as defined by CDC guidelines)
Trains have reduced capacities recently increased to 75% of full on most trains. Others, such as dinner trains are still set at a 50% capacity, but this may change as restrictions lift.
Concierge style boarding eliminates lines on most excursions (we call your party by name in the order you check-in)
Hand sanitizer stations are found throughout the train and museum
Some seats blocked out for distancing – update: most seats are available on the train and passengers are encouraged to distance seat as needed, with limited capacities this is not a problem.
Open window and open air cars available (seasonal)
On the Music & Pizza Train, individual, personal pizzas will be delivered to each guest
Extra space available on each train
NO RISK Reservations Sales Policy (for all trains except Thomas event):
The North Shore Scenic Railroad introduces NO RISK Reservations. All changes to any reservations require 48 hours notice. Should there be a change in operation that affects a passenger's reserved ticket the railroad will offer one of the following options with no additional fees:
Reschedule to another date and time and waive any and all fees
Offer gift certificates good for two years
Refund the price of the ticket, if applicable
Some restrictions apply. Check with ticket agent. For sales policies for Day Out With Thomas, please refer to TicketWeb, the ticket vendor of the Thomas event.