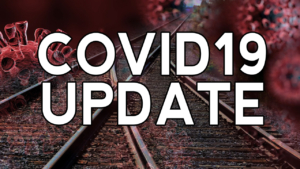 This is some information about what we are doing to make the trains as safe as possible for guests, staff, and crew alike. It should still be noted that we are a public establishment and we do not have direct control over our guests, however we are doing everything we can to make the trains as safe as possible. Some of the below items are subject to change, this page last updated 9/3/2020:
Cleaning and sanitizing protocols have been put in place using standards from the Centers for Disease Control, the State of Minnesota and St. Louis County Health Department. Deep cleaning will be done on a daily basis before the Museum opens or the first train departs the station. During hours of operation, and even as the train is moving, cleaning will continue and the train cars will be thoroughly cleaned again between runs.
Guests must wear masks and special protocols are in place for visiting the Museum and riding the Trains. Some of these new safety features include:
In the Train Museum:
One way directional pathways – follow the arrows and signs
All exhibit push buttons have been replaced by motion sensitive touchless switches
Access to some exhibits has been restricted
Hand sanitizer stations can be found throughout the building
The St. Louis County Depot and Train Museum are FREE with a suggested donation
Train Museum Hours
Sunday-Thursday 10AM – 3PM (The rest of the Depot will be closed Mondays)
Friday-Saturday 10AM – 6PM (Pizza Train nights)
On the North Shore Scenic Railroad
Masks required for boarding the train and moving around on the train (can be removed while seated)
Children of able age should also wear a mask
Concierge style boarding eliminates lines (we call your party by name in the order you check-in)
Hand sanitizer stations are found throughout the train
Some seats blocked out for distancing
Open window and open air cars available
On the Music & Pizza Train, individual, personal pizzas will be delivered to each guest
Extra space available on each train
Trains have reduced capacities, in some cases by half
NO RISK Reservations:
The North Shore Scenic Railroad introduces NO RISK Reservations. Should there be a change in operation that affects a passenger's reserved ticket the railroad will:
Reschedule to another date and time and waive any and all fees
Offer gift certificates good for two years
Refund the price of the ticket
Some restrictions apply. Check with ticket agent.
Additional Info About COVID19 Procedures (Now – October 31st, and likely beyond):

Friendly signage will be posted around the building to simplify social distancing as best we can.
The museum itself has been converted to a one-way tour. Buttons inside the museum have been replaced with motion-activated switches.
Boarding procedures will be modified to reduce a line to get on the train
Onboard the train, additional space will be made between seats restricting how close passengers can sit
Trains have a reduced capacity, in some cases by half
Dinner trains reduced capacity by half, spacing tables every-other occupied
Pizza Trains: All pizzas are enclosed in an individual box until they reach the passenger