EXCURSIONS ARE CANCELLED THROUGH JUNE 30TH, AND THE FIRST RAIL EXCURSIONS ARE AIMED FOR WEDNESDAY, JULY 1ST. THE DULUTH DEPOT REMAINS CLOSED UNTIL THEN. WE CONTINUE TO MONITOR THE SITUATION TO ASSURE IT IS SAFE AND HEALTHY FOR OUR GUEST-PASSENGERS AND CREWS. THE DULUTH DEPOT MUSEUM IS CURRENTLY CLOSED DUE TO VIRUS CONCERNS.

 WHILE THE MUSEUM IS CLOSED, WE ARE RUNNING A DAILY SERIES OF VIDEO TOURS IN THE MUSEUM, WHICH CAN BE FOUND ON THE MUSEUM'S FACEBOOK PAGE OR ON THE YOUTUBE CHANNEL HERE.
---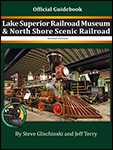 Get the guide: While the Lake Superior Railroad Museum is closed, you can enjoy all the exhibits at home in an 84 page color guidebook, featuring images, specs, and detailed information about all the museum's holdings.  Price of the book is just $15 plus $4 shipping… so only $19 and you have an entire railroad museum in your house! Plus information by mile-post of the North Shore Scenic Railroad. Click here to buy a book today!
---
All aboard for train excursions on the North Shore Scenic Railroad. History comes alive on the Lakefront line during the summer and autumn seasons.  Several trains a day depart the historic Duluth Union Depot for a trip through downtown Duluth, Canal Park, along the shore of Lake Superior and deep into the majestic north woods. Fully narrated tours tell the history of Duluth, the harbor, and the stories of the railroads that built northern Minnesota and Wisconsin.
Trains depart daily from the Historic Union Depot in Downtown Duluth from Mid-April until Late October. The tracks extend all the way to Two Harbors, about 30 miles away, but most excursions run a shorter distance. A few options of regular excursions are listed below, many more special excursions run throughout the year.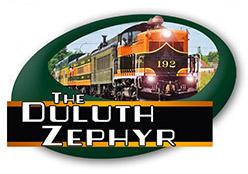 Operating 7-days-a-week in summer, this is our most popular trip, fun for all ages of the family, and now with First Class Options. The perfect price and length for your family visit to Duluth. This is our shortest trip to the edge of Duluth and back. This excursion operates at 11am, 1pm, and 3pm daily.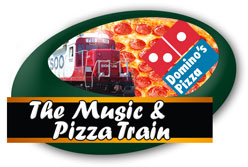 On weekends in Summer, enjoy this evening 2.5 hour ride running a 32 mile round trip up the North Shore and back. Each ticket includes pizza, soda, and dessert and then live music on the way back. This train departs at 6pm.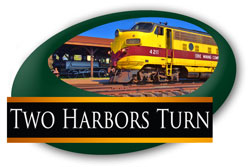 On weekends starting in Summer, you can run the full length of the railroad to Two Harbors, MN on this full day trip. Stop in town for lunch, touring, and then head back to Duluth in the late afternoon. 10:00am departures on weekends.
Signup for our e-Newsletter, Trackside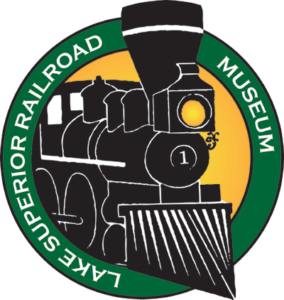 The Railroad is Owned & Operated by:
The Lake Superior Railroad Museum
offering an up-close look at the history of rail travel. Admission is only $7.00 for adults and just $3.00 for kids with your train fare.