Steam Power Excursions with #332
Experience the power of steam, with locomotive #332 leading the charge while you will ride behind this historic engine chugging its way up the Lakefront Line and back.
Steam Schedule 2019:

July 20 & 21 – Festival of Steam Event (more below)
Aug 9, 10, 11:  To Two Harbors
Aug 16, 17, 18:  To Two Harbors
Aug 23, 24, 25: To Two Harbors
Aug 30, 31, Sept 1:  To Two Harbors
September 7, 8:  To Two Harbors
September 13, 14, 15:  To Two Harbors
Thank you for your ongoing support and interest of the #28/#332 Steam Locomotive program. Operating a machine of its age, now about two generations from experience in the trade, is a challenge for any organization. The Lake Superior Railroad Museum, a non-profit organization, has committed to steam operations as part of its mission to preserve, present, and interpret the history of railroading, especially as it relates to our area.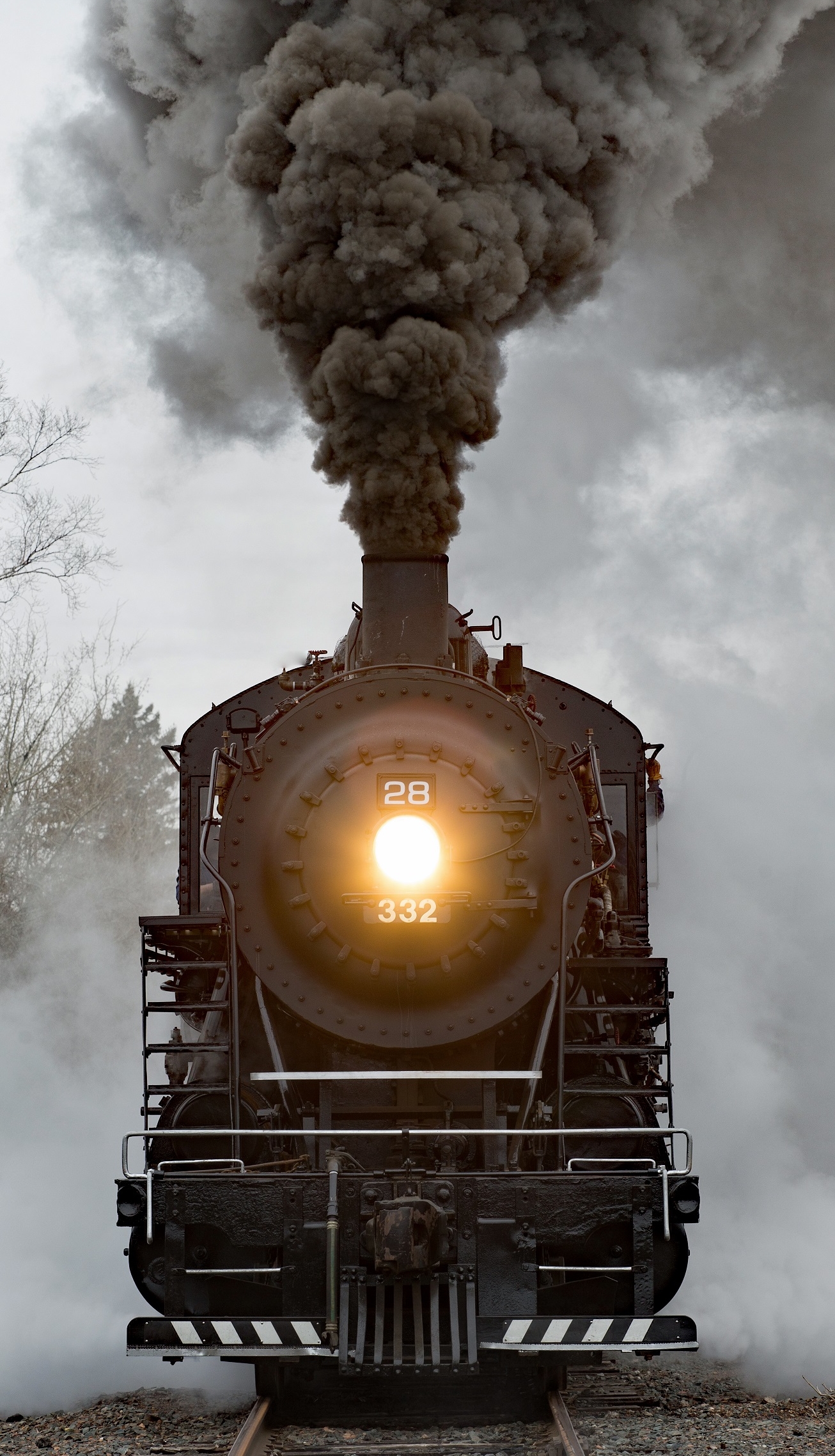 Festival of Steam – Duluth Zephyr Steam Power Special:
Our most popular trip route, this excursion brings you through downtown Duluth, a little way up the North Shore, through Congdon Park, and to the neighborhood of Lakeside, where the train stops briefly to turn around. This weekend, pulled by Steam Locomotive #332, the museum's own consolidation style 2-8-0 built in 1906. The excursion lasts about 1 hour and 15 minutes, covering about six miles each way.
First Class Option: Experience the spectacular views above in the Dome Car of the steam engine at work, with an attendant designated just for you. Space is limited to just 24 passengers per trip, but you have the entire Dome Car (including the downstairs lounge) to yourself. Enjoy complimentary snacks and drinks while you experience the spectacular views from above in the Dome Car. Note: Due to the historic nature of the traincar, First Class seats are not wheelchair accessible. Children ages 0-13 must purchase tickets for first class (in coach, 2 and under are free), and must be supervised at all times while on the train for the courtesy of other passengers. All passengers in first class are asked to respect fellow guests with behavior suitable to your beautiful, premier surroundings.
Dining Car Seats: Ride in the Lake of the Isles Dining Car and enjoy a great light meal served by our local chefs. On the morning trip (9am), a continental style breakfast is served on the ride, at 11am  and 1pm a light lunch of sandwich/pasta-salad with dessert. On the 3pm ride, enjoy Wine & Cheese included with the dining car ticket (snacks and juice for the kids). Children ages 0-13 must purchase tickets for the dining car (in coach, 2 and under are free), and must be supervised at all times while on the train for the courtesy of other passengers.
Coach Seats: Ride in one of several historic coaches. Some have open windows, some have air conditioning/heat, it is up to you! All seats are general boarding, so you are free to explore the train for the perfect seat. A concession car is also available to enjoy that has large open-air doors. Children ages 2 and under are free and do not need tickets for coach.
Reservations are strongly recommended but not required for this excursion. Tickets may be purchased up to 20 minutes prior to departure. This train can sell out, so it is recommended to pre-purchase your tickets.
This train is Wheelchair Accessible in coach only, but there are no wheelchair accessible restrooms (and first class is not accessible).  Wheelchairs are lifted into the concession/open car. Pets are not allowed. All tickets are round-trip. There are restrooms on the train. Children: Ages are 3-13 in Coach. Ages 2 and under are free in coach and do not need a ticket/reservation. All passengers in First Class & Dining Car (ages 0+) must purchase a ticket.
Doors close 2 minutes prior to departure for safety checks. Any passengers who arrive after this time will not be permitted to board and will not receive a refund.
History of the locomotive:
The #28 locomotive was built by the Pittsburgh Locomotive Works in 1906 for the Duluth, Missabe and Northern as their No. 332. A typical drag freight consolidation type engine of the early 1900s, she weighs in at 102 tons (172 tons with tender loaded). The capacity of the tender is 8,000 gallons of water and 12 tons of coal.
No. 28 was sold to the D&NE in 1955, and was used to haul logs, lumber products and some general freight. It worked in this service until 1964 and was last under steam in 1965. The D&NE restored and donated the locomotive to the Museum in 1974.
In the Fall of 2013, a restoration project began to bring the engine back to operating condition. It operated for the first time in 2017 on the North Shore Scenic Railroad as #28, and was renumbered/painted to be its original #332 for the 2019 season.