Standard Train Excursions:
2024 Schedule Available in January
Train excursions operate daily in the summer and fall months. There are several excursion options to choose from. Our standard excursions are listed below, and other special events listed here. The Lake Superior Railroad Museum is open daily from 10-5pm.
Good things to know:
Reservations are recommended for all excursions, and some trains require reservations in advance. A credit card is required to make reservations.
All excursions are round-trip
On most excursions, children ages 2 and under are free in coach sections of the train. However all ages need tickets on these trains: First Class Duluth Zephyr, Elegant Dinner Train, Summer BBQ, and Murder Mystery, ages 0-13 will need a purchased ticket.
Combo Admission to the Lake Superior Railroad Museum can be added with 50% off admission if you have a train ticket. You can purchase museum passes at this rate anytime, with your tickets or when you arrive.
Wheelchair accessibility is available on the Duluth Zephyr and Pizza Trains only at this time – there are no accessible restrooms for wheelchairs onboard the historic railcars. >>More ADA information here<<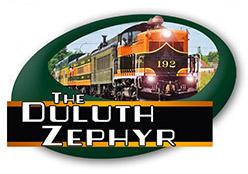 The Duluth Zephyr
Operates May to mid-October
The Duluth Zephyr is our most popular trip! Great for all ages, this train operates daily in the summer and fall, operating a 75-minute trip (1hour, 15 minutes) through downtown, along the shoreline of Lake Superior, through the historic Congdon Neighborhood wooded area, until it reaches a side-track stopping point where the train stops briefly to turn around and return to the Depot.
---
Options:
First Class Option: Ride in the Dome Car and enjoy the unique upstairs viewing area, with an attendant designated just for you. Space is limited to about 60 passengers in the domecar per trip. Enjoy complimentary snacks while you experience the spectacular views from above, in the "SkyView" Dome Car. Learn more about the Dome Car here.

Coach Seats: Ride in one of several historic coaches. Some have open windows, some have air conditioning/heat, its up to you! A concession car is also available to explore.
---
FIRST CLASS DOME (upstairs): $42.00
All ages (including babies) need a purchased ticket
COACH SEATS: Adults – $22.00, Children (3-13) $11.00
Ages 2 and under are free and do not need tickets
Large Group (10+) pricing and reservation info can be found by clicking here.
Reservations are not required for this excursion, but recommended. Tickets may be purchased anytime prior to departure.
Beverages and snacks are available onboard the train. Pepsi products, juice, and water. Beer, wine, and seltzers are also available for ages 21+.
Light snacks available for purchase such as candy and chips. Cash and cards are accepted.
Schedules subject to change from what is listed above, for most up-to-date, 

Click here for daily calendar

.
Trains operate 7-days-a-week in late spring, through mid October.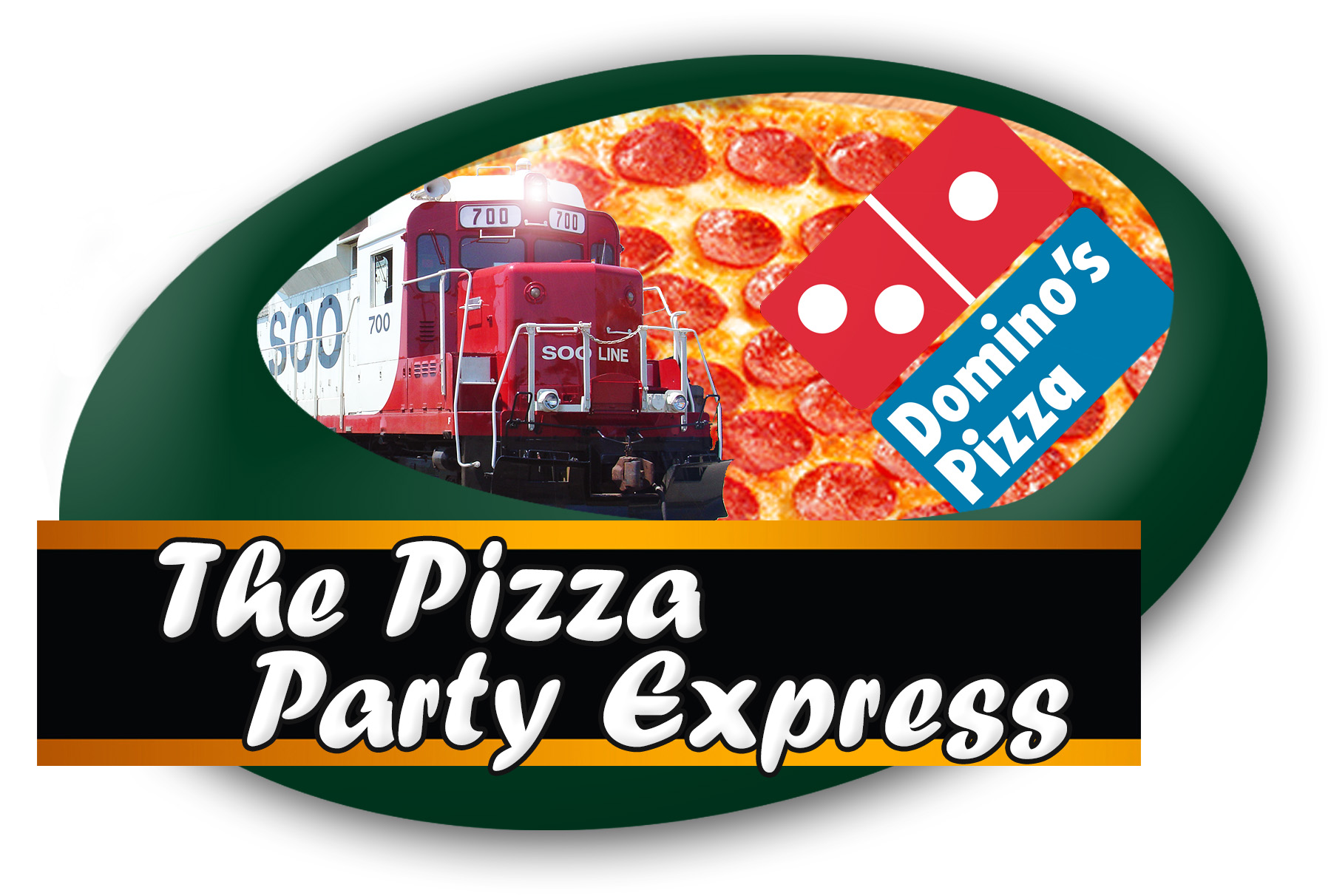 The Pizza Party Express

Evenings on Weekends in Summer/Fall

This excursion is done operating for 2023, and will return in May of 2024. Description: This is a 2-1/2 hour trip up the North Shore with pizza and fun for all ages. All ticketed passengers get one 8″ Domino's personal pizza, soda included, and a dessert later on the ride. The first part of the trip is narrated as we pass by all the sights of Duluth, on the way back enjoy the music and commentary about railroading and the area played throughout the train. A bar with Beer/Wine/Seltzers is also available for sale, along with snacks for purchase, such as candy and chips. Cash and credit cards are accepted.
The Pizza Party Express operates Wednesday-Saturday evenings (see calendar for exact dates).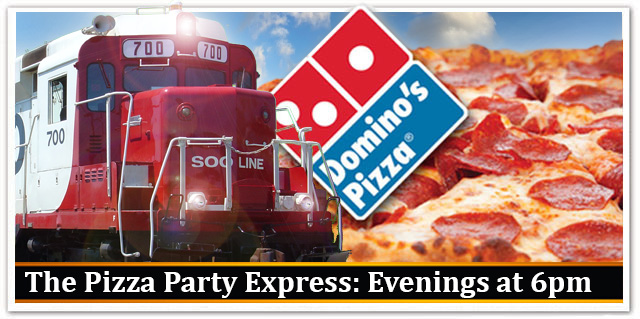 ---
Reservations Required for this excursion, additional fees may apply on peak days (Saturdays), Ages 2 and under are free (no pizza included).

Coach Seats: Adults – $34.00, Children (3-13) $22.00
Domecar Seats (limited dates available): Adults – $54.00, Children (3-13) $42.00
Click here to view Domecar upgrade availability
Pizza train reservations must be made by 2pm the day of the excursion. Menu options available: Pepperoni, or Sausage, or Cheese. Gluten Free cheese also available. Menu choices must be made at the time of reservation.
Groups: Seating is in groupings of 4 in most cars. We do not have assigned seating, and staying together isn't too hard, and coaches generally hold about 60 passengers, so it is hard to sit directly across from eachother or directly in the same vicinity. If you have a large group, plan on arriving earlier for checkin to get an earlier boarding time so that you can get seats across from or nearby one another.
Large Group (10+) pricing and reservation info can be found by clicking here.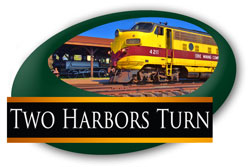 The Two Harbors Turn
Full Day Excursion on Weekends

The premiere excursion of the railroad is a six-hour full day ride up the North Shore with a layover-stop for lunch (food not included in ticket price), touring and shopping in beautiful Two Harbors. Return to Duluth between 4 and 5pm.
Entrance to the Lake Superior Railroad Museum is included with your ticket prior to your departure on that day. Doors open at 9am. You can purchase museum admission the day before or after at 50% off. This trip is usually not wheelchair accessible. Pets are not allowed.
Snacks and two beverages are included with every ticket, and additional concessions can be purchased from the "new to this excursion" bar-car. The train is fully stocked with beer, wine, seltzers, Pepsi products, juice, and water. Additional light snacks such as chips and candy will also be available.
The train arrives at the Two Harbors Depot, today the Lake County Historical Society. There are some local eateries and shops within walking distance, and the railroad provides free shuttle busses on most trips that can take you to other locations in town. A handy passenger guide is provided to passengers with information on the great local businesses in town.
This excursion operates on Saturdays in June, and most weekends the rest of the summer/fall: Friday, Saturday, and Sundays.

Summer Two Harbors Turn:
June – September, Fridays-Sundays
Premiere Main-level Seats: Adults – $75.00, Children $65.00
Premiere Domecar Seats: All ages – $85.00

Fall Colors Tour (Same trip, in autumn):
September – October, Fridays-Sundays
Premiere Main-level Seats: Adults – $95.00, Children $85.00
Premiere Reserved Domecar: All ages – $105.00
_____________________________________________________________________________________
Ticket Options:
Premiere Main-level Seats: Ride in one of several historic coaches and loungecars on the railroad. Open seating allows you to move anywhere you want to with a limited number of passengers so everyone can spread out throughout the train. These seats are restricted to the main level and are unassigned so you can move around and explore the entire train (except the upper dome seating). All the cars have air conditioning/heat, accordingly.

Premiere Reserved Domecar Seats: Choose from two different domecars on the train, and select your reserved seats. In addition to your Dome seats, you have access to the rest of the main-level seating in our various loungecars, bar car, and the private rooms on the Puget Sound. You have the freedom to explore the train and return to your reserved seats whenever you'd like. You can learn more about the Dome Car here. Is the Domecar full the day you are coming? Click here for a wait list.

Note: The Two Harbors train excursion is subject to delays due to Canadian National Railway (CN) freight traffic. Please consider this when making plans for after the train ride. Delays are rare, but can be an hour or more.
_____________________________________________________________________________________
The Traincars on the Two Harbors Turn excursion:
Coach 517 (tables and coach seats) – Silver Club Dome-lounge – The Molly Fair (lounge car, with bar) – Puget Sound Dome-sleeper (private rooms & domecar seats)

Coach #517 was built for the Northern Pacific Railway by Pullman-Standard, in late 1946 for the streamlined North Coast Limited. It has been converted to be a table-car, much like a diner with a few coach seats too. This offers passengers the opportunity to relax in large coach seats, or sit at tables to talk, play cards, or enjoy some snacks on the ride. This car is open/unassigned seating.
The Silver Club Dome was built in 1948 by the Budd Company for the Chicago, Burlington & Quincy Railroad's "California Zephyr." It was originally a dome-lounge-dormitory. One of the current lounges was once a bunk-bead area for the crew. The car has a beautiful vista dome area and three open lounge-areas in the lower level that any passengers on the train can enjoy. There is also two (only one available) private bedrooms on the car to explore. This car has assigned seating in the dome, with is open/unassigned seating in the lower level.
The Molly Fair Lounge was built in 1910 for the Grand Trunk Railroad in Canada. Originally a coach, it was modified to be the beautiful lounge car it is today by a longtime volunteer and owner of the car, Marty Fair. It is complete with a bar where you'll find concessions on the trip to and from Two Harbors. Large booths and comfy table seating is available for any passenger on the ride to enjoy.
The Puget Sound Dome was built for the Great Northern Railway in 1955 as a dome-coach for the world-famous "Empire Builder" train between Chicago-St.Paul-Seattle. The car later went into private railcar service, where it was renovated as a sleeping car, and today has 5 bedrooms, a full kitchen and an upper dome area. This car has assigned seating in the dome section, with is open/unassigned seating in the lower level bedrooms.
View More Special Excursions & Events Here