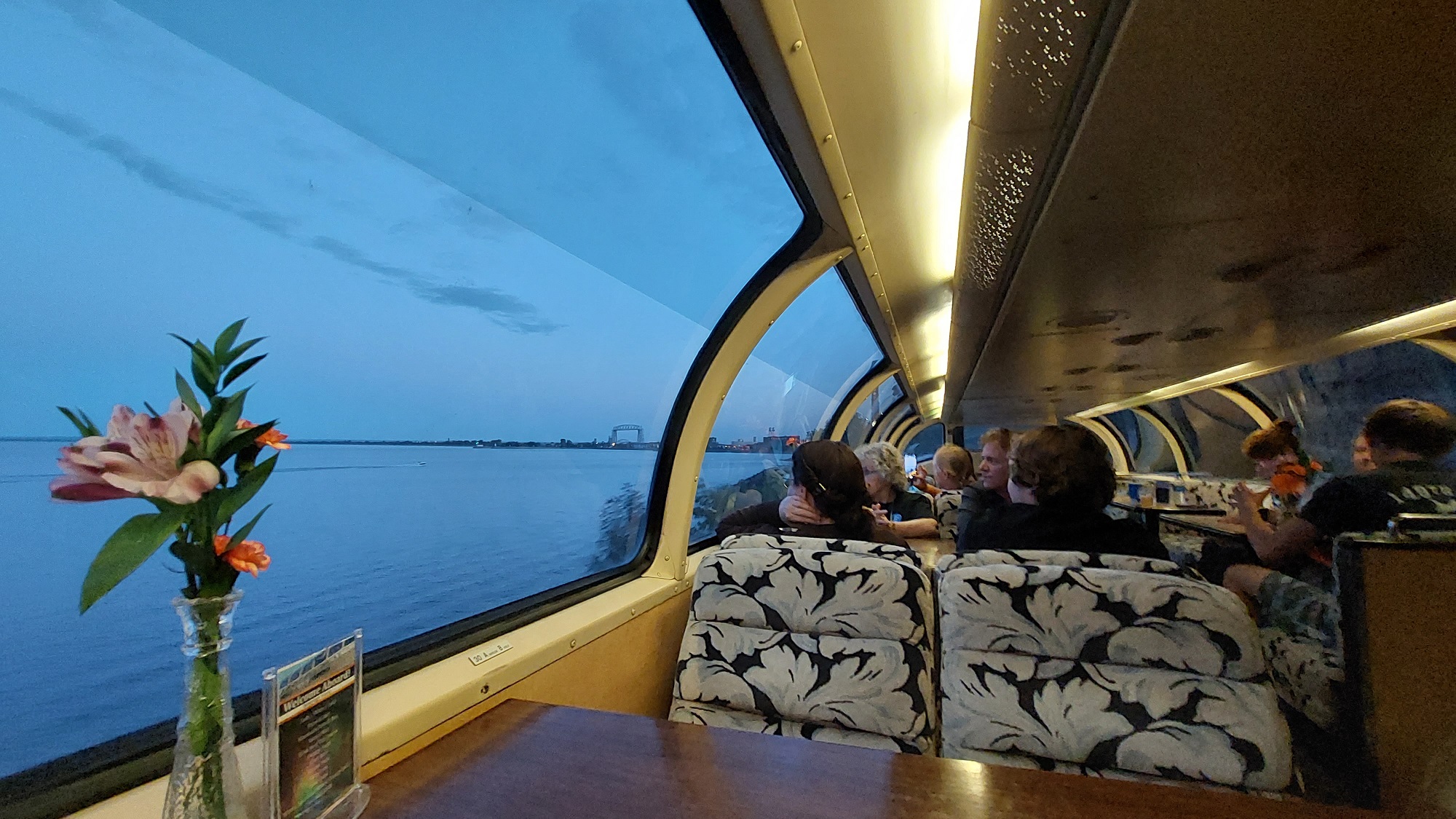 Elegant Dinner Train – SOLD OUT
August 20 @ 6:00 pm

-

October 1 @ 6:00 pm
Dining on the rails is nostalgic, romantic and delicious! Exquisitely prepared, four course meals, served on fine china with white linen tablecloths and fresh flowers, set the mood. Guests ride in air conditioned comfort on our 1954 built "SkyView" Domecar, in booth-style seats. Like an ever changing masterpiece, the North Shore's majestic scenery glides by beautifully outside the car's large picture windows at "treetop level."
2022 Covid-19 updates… Following strict state guidelines, and using recommendations from the Centers for Disease Control, the safety of guest/passengers is our primary concern. More information about our COVID19 procedures can be found here.
All tickets $75.00
Reservations Required – Limited seating
MENU SELECTIONS 2022:
MidCoast Braised Beef Short Rib
Pork Loin

Kofta w. Butter Sauce (Vegan & GF)
All foods locally sourced when possible, and proudly crafted by Executive Chef Jonathan Reznick & Mid-Coast Catering.
All meals served with appetizers, MidCoast house salad of mixed greens, goat cheese, cranberries, candied pecans, balsamic vinaigrette, complimentary coffee, and dessert of French style Chocolate Pot de crème, all included. Meals are accompanied  with Chive and Cream Cheese Smashed Baby Red Potatoes and Tri-Colored Carrots. Foods locally sourced when seasonal, by Executive Chef Jonathan Reznick & Mid-Coast Catering. Reservations are required.
Tables are seats of 4, so this is a perfect double date! If you have another party you would like to sit with, please make a comment on the reservation. ex: "seat with the Smiths"
Consist: Dining Car "SkyView" + attached to a concession Bar-Car, and several coaches of the Pizza Trian.
Friday, and Saturday Evenings in August/September
6:00pm departure
Duration: 2.5 Hours
Distance:  34 Miles
ALL DINNER TRAINS ARE SOLD OUT. OTHER EXCURSIONS INFO CAN BE FOUND HERE.