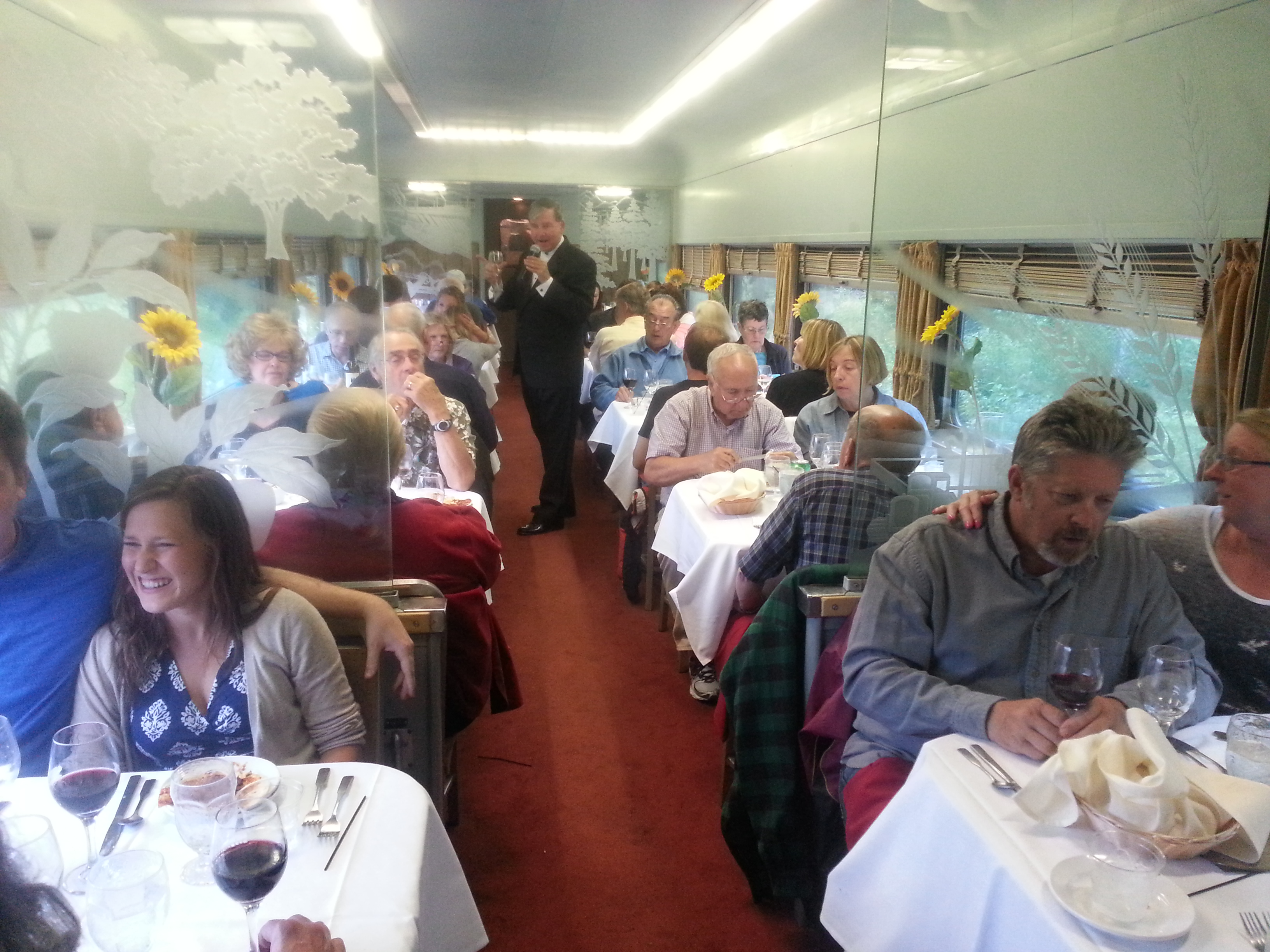 Elegant Dinner Train
August 21 @ 6:00 pm

-

September 25 @ 6:00 pm
Dining on the rails is nostalgic, romantic and delicious! Exquisitely prepared, four course meals, served on fine china with white linen tablecloths and fresh flowers, set the mood. Guests ride in air conditioned comfort on our 1950 Art Deco Lake of the Isles dining car. Like an ever changing masterpiece, the North Shore's majestic scenery glides by beautifully outside the car's large picture windows.
The menu to choose from features; Zenith City Beef Wellington, Northwood's Pork Loin, or Vegan Ratatouille (also GF). All items are locally sourced whenever possible and finished on board the dining car. Reservations are required.
Tickets also include the Silver Club Dome Car Lounge, where you can move to stretch your legs after dinner, and then have an after dinner beverage in the Dome Car.
2021 Covid-19 updates… Following strict state guidelines, and using recommendations from the Centers for Disease Control, the safety of guest/passengers is our primary concern. Only half of the seats (24) in the dining car will be occupied to insure social distancing. Like restaurants, masks are required to board the train and when moving about. While seated with your party they may be removed. The car is thoroughly and professionally cleaned between each trip. These policies are subject to change as 2021 continues.
All tickets $68.00
Reservations Required – Limited seating
MENU SELECTIONS 2021:
Zenith City Beef Wellington

Northwoods Pork Loin

Vegan Ratatouille (also GF)
All foods locally sourced when possible, and proudly crafted by Executive Chef Jonathan Reznick & Mid-Coast Catering.
All meals served with appetizers, MidCoast house salad of mixed greens, goat cheese, cranberries, candied pecans, balsamic vinaigrette. Along with Savory Bread Basket, coffee, and dessert of French style Chocolate Pot de crème, all included. Beef and Pork are accompanied by Duchess Potatoes and Chef's choice vegetables. Foods locally sourced when seasonal, by Executive Chef Jonathan Reznick & Mid-Coast Catering.
Tables are seats of 4, so this is a perfect double date! If you have another party you would like to sit with, please make a comment on the reservation. ex: "seat with the Smiths"
Consist: Dining Car + Dome/Lounge Car, attached to a concession Bar-Car, and several coaches of the Pizza Trian.
Friday, and Saturday Evenings in August/September (Thursdays too in August)
6:00pm departure
Duration: 2.5 Hours
Distance:  34 Miles
 Another update: Returning guest/passengers will notice a new look to the Lake of the Isles diner.  Over the winter the interior was completely remodeled, keeping the rich, historic character of the car, but with new carpet, upholstery, paint and warm LED lighting.  Along for your comfort, and enjoyment, is the Silver Club Vista Dome Car as your personal lounge before and after dinner.