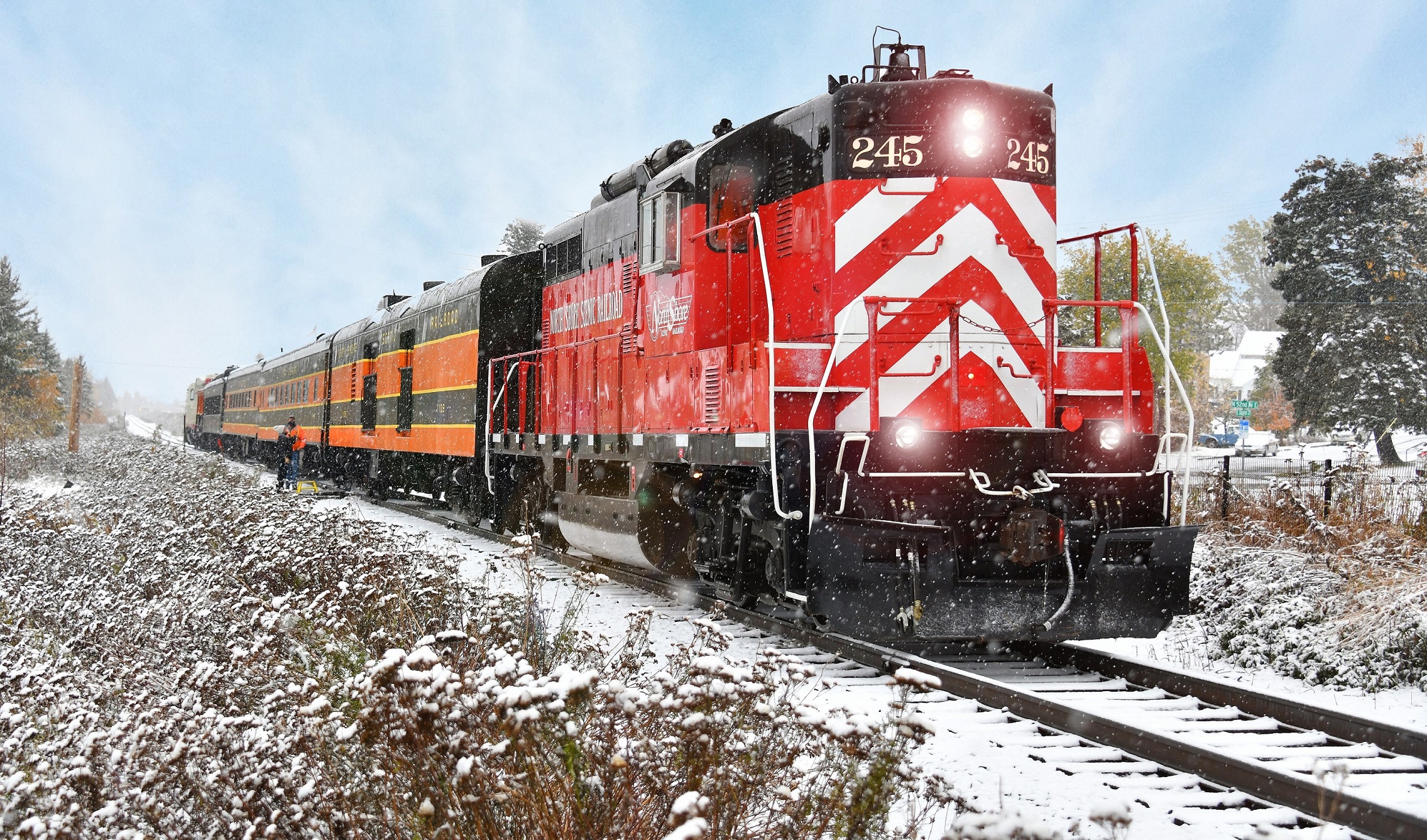 Christmas Tree Train
November 25 @ 9:00 am

-

1:00 pm
Begin a family tradition with this new excursion from the North Shore Scenic Railroad. Travel up the North Shore to the small village of Knife River, where fresh cut North Shore Christmas Tees await, from our friends at Northern Connections. Pick your favorite, have it bailed and loaded onto the train for you while you enjoy live music, and the holiday atmosphere at the newly restored Knife River Depot.
When you return to the Duluth Depot, drive your car right up to the side  of the train, and have our handy helpers load your tree onto your roof for you to take home. Trees and wreaths can be purchased along with your tickets, or in person when you arrive at Knife River.
Schedule for the Train:
9:00am – Depart Duluth Depot
10:30am – Arrive Knife River
Deboard the train and pickout a tree, wreath, or just enjoy the holiday cheer at this charming location along the rail line.
Trees are bailed and loaded onto a flatcar on the train, while you board the warm coaches.
Around 11:30am, train departs Knife River to head back to Duluth
1pm – return to Duluth Depot. Use your "luggage tag" style ticket to claim the tree that you had picked out in Knife River. Optionally, come into the Lake Superior Railroad Museum to look around and enjoy the holiday decorations in the museum.
Tickets in coach seating: $40 for adults, $30 for kids. Ride in the Domecar for $20 more. Trees sold separately, with your tickets. You can upgrade, and/or purchase additional trees or wreaths after arriving.

Tickets will go on Sale October 1st

Tickets will go on Sale October 1st
By purchasing a tree in advance, you will get a voucher along with your train tickets in Duluth, before your journey. When you arrive in Knife River, you can simply select a tree, and pay with your tree voucher. If you decide to upgrade or purchase a tree that costs less than your voucher, an attendant at the tree farm will be available to make adjustments.
Size
Description
Prices
Trees:
All sizes
Natural Balsam Fir
$ 44.95
All sizes
Pines
$ 49.95
All sizes
Fancy & Cook Balsam
$ 69.95
6-8 ft
Fraser Fir
$ 79.95
Wreaths:
24″ Wreath and
Swags
Mixture of fir, pine & cedar decorated with Bow, Berries & Cone
$ 32.95
About Northern Connection Landscape, Greenhouse and Evergreen products LLC:
Family owned Christmas tree lot & wreath crafting business since 1999, taking expert craftsmanship & knowledge of quality tree growing to heart."
They love the people of the Northland, and support family owned businesses across the region.   "We are excited to share this with you at the Christmas tree train excursion.  It will be a privilege to serve all during this wonderful time of year." – Owners Lynette & Jonathan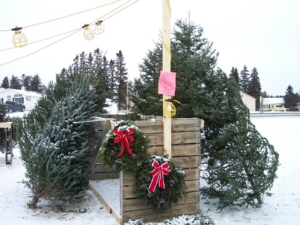 A variety of Christmas trees to choose from…
The Christmas trees are personally chosen on the North Shore, and nearby tree farms and are safely cut at the latest date to insure freshness. Many of the trees on the north shore grown by this family business and other sustainable tree farms.
A variety of wreaths to choose from…
"We pride ourselves in making our wreaths fresh, order ready, with handmade perfection. Our products are made of freshly cut balsam, pines, and cedar harvested from the North woods of Minnesota The products are made fresh and ready for our lots or picked up."
The wreath prices listed are for our Northern Mix 24" wreath and 30" swag. The wreaths will be decorated with a bow, cones, & berries.
Northern Connections can be reached through calling: (218) 834-2020.  On location in Two Harbors at 1756 Hwy 12. Also visit our web page at www.nclandscapegreenhousewreaths.com and on their Facebook page here.
---
Questions? Contact us here or call: 218-722-1273