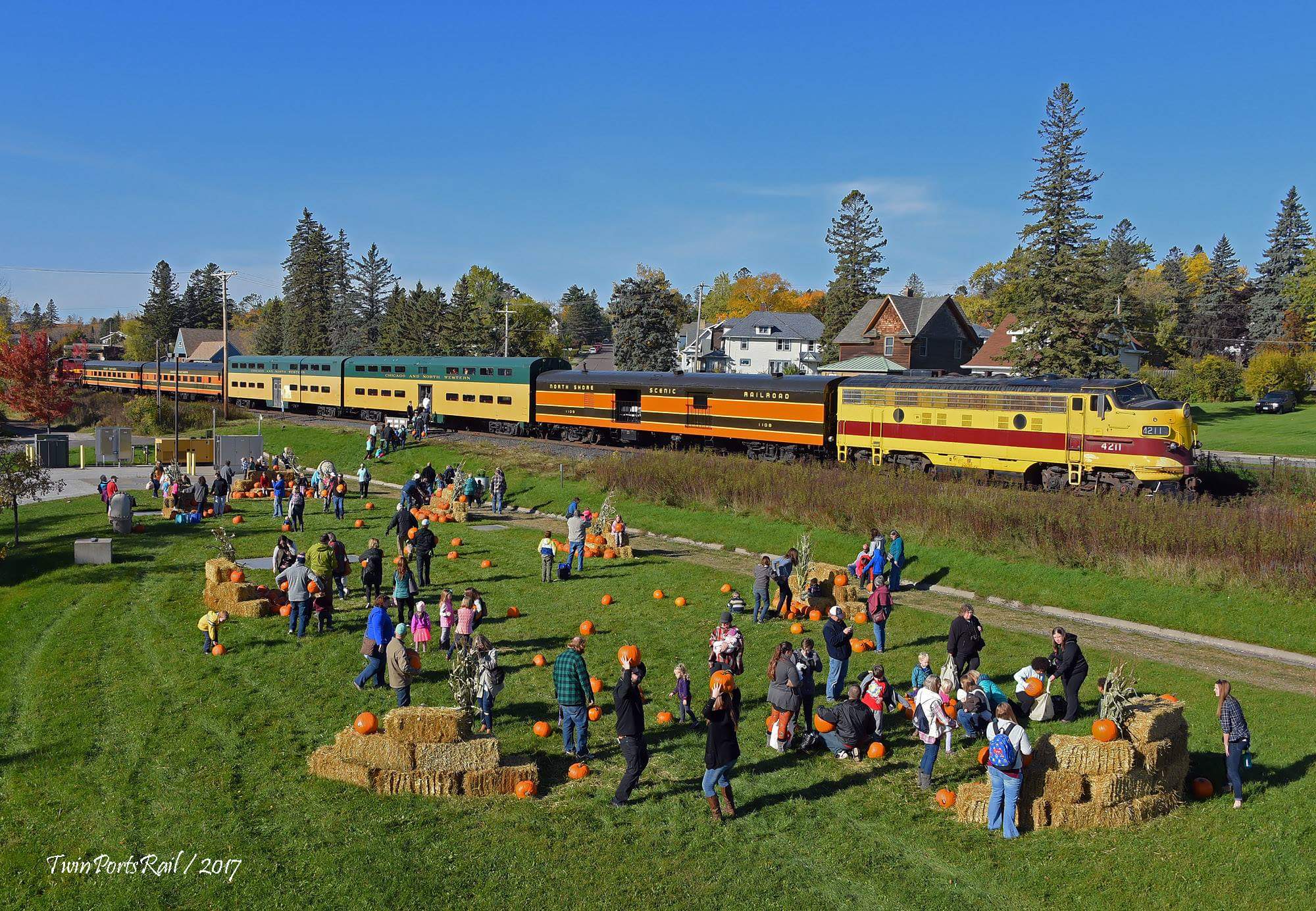 Journey aboard our annual Pumpkin Train Express to the grassy pumpkin patch that only appears once a year, on this very special weekend.
When you arrive at the patch, each passenger gets to pick out their own pumpkin to take with them. The train ride is about 90 minutes total, and you'll return to the Duluth Depot where you can stay all day to tour the railroad museum (included and open until 5pm), listen to live music, enjoy bounce-houses, food vendors, and much more. Helpful tip: Bring a bag to carry pumpkins in – Grocery bags work great.
The Pumpkin Trains weekend is an annual fall tradition you won't want to miss, and is sure to create new memories you'll want to experience each year.
Adults: $20.00, Children: $20.00 – ($2 Cheaper on Sunday)
Reservations Suggested – Limited Seating
Duration: 1.5 Hours
Distance 10 Miles roundtrip
October 15 – 18, 2020
10:00 am, 11:20, 12:50 pm, 2:20 or 3:50pm
On the train enjoy narration, Halloween music, and the beautiful scenery of the North Shore. Back at the depot, stay for magic shows, coloring, balloon twisting, Halloween movies, bounce houses, and more. ONE WEEKEND ONLY. Museum is open until 5pm and is included with your ticket.
The Lake Superior Railroad Museum, included with your ticket, is only open until 5pm. If you are on a later train, be sure to come early to enjoy the museum activities.
All ticketed passengers get 1 pumpkin included at the patch. Ages 2 and under are free however do not get a pumpkin included (parents usually share).
We're sorry but the pumpkin patch train is NOT a fully wheelchair accessible event due to the historic nature of the train equipment and the accessibility of the patch itself. However, the 10am, 12:50 and 3:50 train is available for the ride only (cannot debaord wheelchairs at the patch and there are no accessible restrooms onboard).