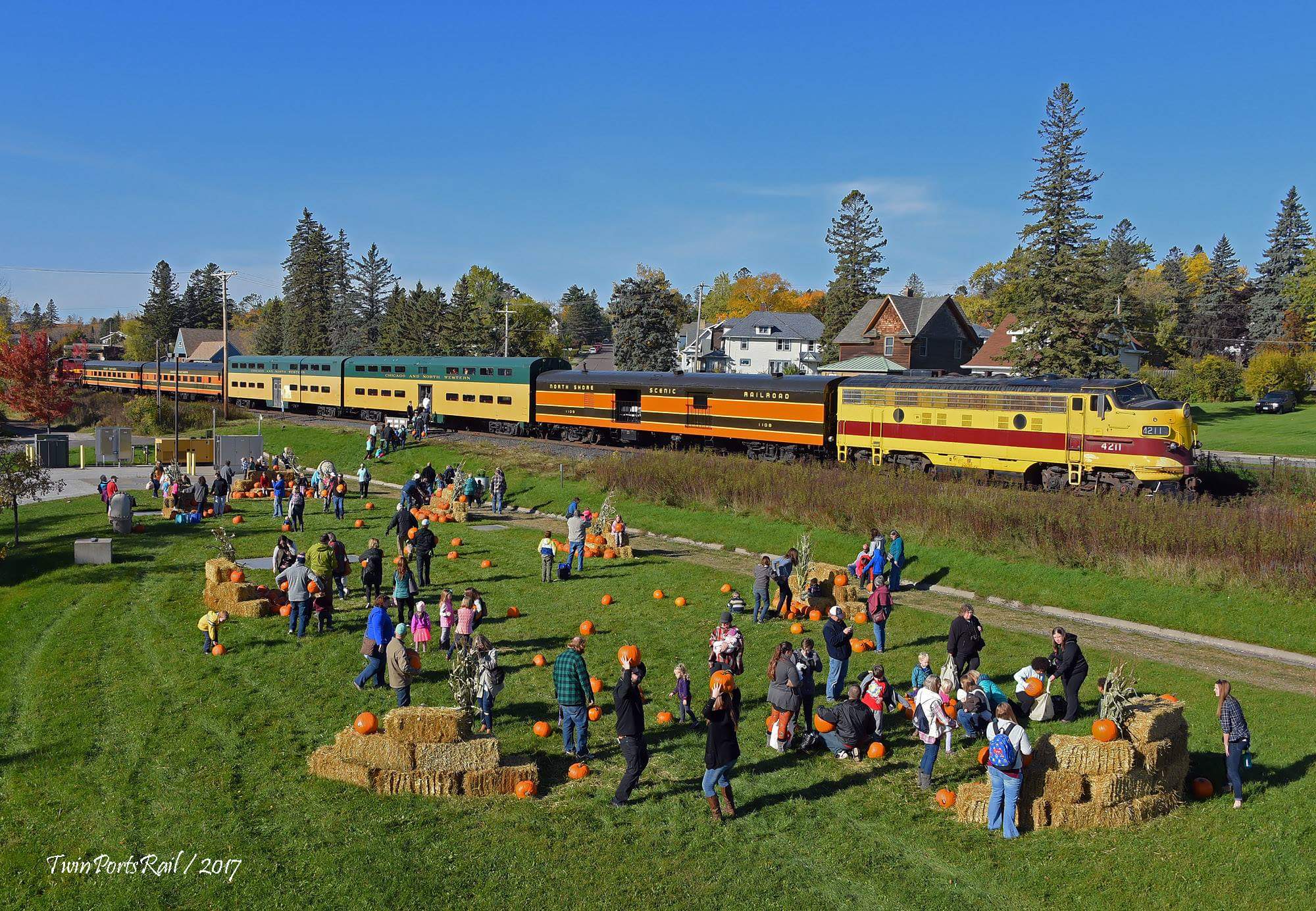 Journey aboard the annual Great Pumpkin Train to the grassy pumpkin field that only appears once a year, on this very special weekend. Museum admission is included and there is tons of fun inside the Depot too. The Great Pumpkin Train weekend is an annual fall tradition you won't want to miss, and is sure to create new memories you'll want to experience each year.
When you arrive at the "pumpkin patch" on the train, each ticketed passenger gets to pick out their own pumpkin to take with them. The train ride is about 90 minutes total, and you'll return to the Duluth Depot where you can stay all day to tour the railroad museum (included and open until 5pm). Helpful tip: Bring a bag to carry pumpkins in – Grocery bags work great.
Ticket Prices:
$30 for all passengers, ages 3 and up. (only ticketed passengers get a pumpkin)
$45 for Domecar seats for all ages (infants too). More details below.
$5 additional per ticket added on Friday and Saturday (peak days)

The Lake Superior Railroad Museum, included with your ticket, is only open until 5pm. If you are on a later train, be sure to come early to enjoy the museum activities.

Domecar Seats are available for a few dollars more. These are seats in our unique upper level viewing cars, with lounges below to store pumpkins. Concession are available for sale with these tickets. Due to limited space, all passengers (infants too) have to pay for a DomeCar seat.
Fine Print Details: Ages 2 and under are free, but only ticketed passengers can get a pumpkin (parents share with the little ones in the case of 2 and under).  The Pumpkin Patch Ride is not wheelchair accessible for deboarding at the patch. However, wheelchairs can be loaded at the station into non-heated coaches for the ride. There are no accessible restrooms onboard the train. There are no group-rate discounts available for this excursion.
Other Good Stuff to Know:
Trains operate rain or shine and in snow.
Restrooms are available on the train, and coaches are heated/cooled as needed (except in open air car areas).
Trains operate rain or shine and in snow. Restrooms are available on the train, and coaches are heated/cooled as needed (except in open air car areas).
Passengers in coach are boarded in the order they have arrived for checkin. First people to checkin are able to board first. This also allows for extra time to tour the museum beforehand. Any First-Class seats are boarded by reserved seat assignment with no need to checkin extra early.
There is ramp parking on both sides of the Depot building, which is sometimes free on weekends (Sat/Sun). Follow signs accordingly, if the machine does not accept payment, then it is free. For directions click here: https://duluthtrains.com/directions/