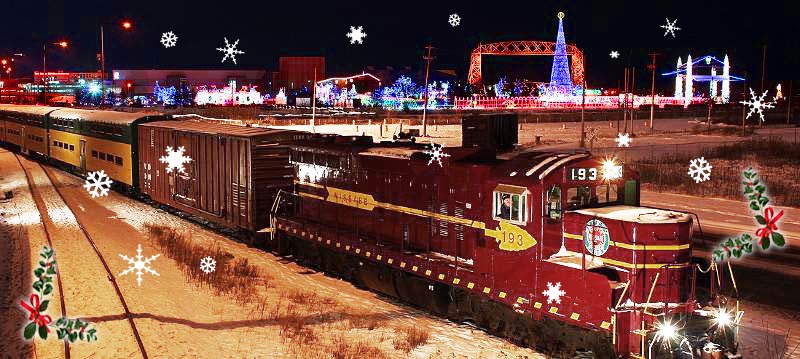 Bentleyville Shuttle Train – Cancelled 2021
November 29, 2021

-

December 26, 2021
THIS EXCURSION WILL NOT BE OPERATING THIS YEAR
Tickets are just $7 each.  Ride to the Bentleyville Tour of Lights aboard the North Shore Scenic Railroad. Skip the hastle of parking at Bayfront, and enjoy a meal at Fitgers before or after your tour (not included with your ticket)! All tickets are round-trip included.
Please allow time for parking at Fitgers, Saturdays are the busiest, but it is a great place to return to after exploring the magic of the Bentleyville Tour of Lights. Keep your parking meter stub and get it validated at any of the Fitger's shops, or at the Train Ticket Office at Fitger's.
THIS EXCURSION IS CANCELLED FOR 2021
Here is the schedule of trains, along with convenient optional return times from Bentleyville:
Departure Times:
Return Times:
4:45
6:45

6:00

7:00

7:45

8:30
We are sorry, but due to the historic nature of the railroad equipment and un-even surfaces leading to the boarding platform, this train is NOT wheelchair accessible.
Stollers are allowed but must be able to fold up and be stowed on the train. Very uneven terrain for loading and unloading, and large strollers are NOT recommended.
To do this train as well as the Christmas City Express: The Christmas City Express Story Performance and Train Ride has moved to the Duluth Depot (ONLY), and trains no longer depart from Fitgers, making the ability to do both on the same night very difficult.